Date(s) – Aug 7 – Aug 18 from 9:00 am – 3:00 pm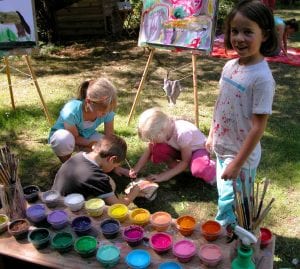 LucSculpture School and Studios has been providing creative camps to elementary school aged children for more than 10 years in Toronto. Our camps is not just about making art, but it is unique because we implement our philosophies of "relief from creativity" and "making environmentally friendly artworks".
Children are creative by nature, so we support their creative process by guiding them to tap into their curiosity, and also providing the right techniques to build their ideas upon. Our activities are designed to tickle children's imagination and also to cultivate loving heart towards self, others and mother nature. All of our art works are made of up-cycled materials or things we find in nature such as clay, woods, stones, and leaves.
At OUR Ecovillage, we have an amazing toybox of the whole village, so we focus many activities to utilize the nature around the village, to learn from the ecosystem, and to plant an awareness in children about the sustainable way of living.
Kinder Camp 9:00 – 12:00 (4Activities a day. Each activities are about 30-45 min)
For preschool and kindergarten kids, we will have a lots of discovery in the nature through a variety of art activities. Also have some exposure to English language through play, music and story time.
Language: Japanese, English
For age 6+ : 9:00 am-4:00 pm
For preschool and kindergarten kids: 9:00 am-12:00 pm
Fee:
– For Child 6 & under (Half day for 5 days): $135 plus tax
– For Child 7 and older (Full day for 5 days) $245 plus tax
– Joining 1 Full day: $70 plus tax
– Joining 1 Half day: $40 plus
* Prices include all art supplies, clay, firing and snacks
Note: 7 families from Japan are participating in this camp.
Online registration will be available shortly.