On Friday Mornings from 10 am to 12 noon (Sept-June)

and Monday evening 6:30 to 8:30 pm (Jan-Mar)
Instructor: Hiroshi Yamamoto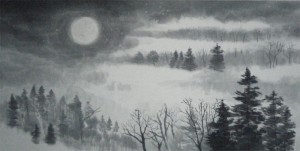 Friday morning 2016/17 Schedule:
Fall 1 session: September 16 to October 28

Fall 2 session:

November 4 to December 16
Fee: $210 for 7 weeks

Winter session:

January 20 to March 10, 2017.
Fee: $210 for 7 weeks

Spring session:

March 24 to May 5

Fee:

$180 for 6 weeks (No class on Easter April 14)

Summer session:

May 12 to June 23
Fee: $210 for 7 weeks
Monday evening 2017 Schedule:
Winter session:

January 23 to March 6, 2017 (no class on Family day Feb.20)
Fee: $180 for 6 weeks
Maximum of 8 attendees per class
Supplies available 50$ to 60$: Materials for this course are Brushes, sumi (ink stick), suzuri (ink stone), shallow plates for mixing ink, matte and rice paper, and are available for purchase from instructor.
Sumi-e is a traditional Japanese ink Painting technique, which is based on using an oriental brush and ink or subtle watercolours on rice paper. This work shop is open to students of all levels, from beginner to advanced.
To register click here
Studied Japanese Traditional Art and Art History at the Kyoto Industrial Design Institute Japan and the Kyoto Japanese Art School. Hiroshi has held more than 20 exhibition in Canada, USA as well as in Japan.