Tuesdays from 6:30 pm to 9:30 pm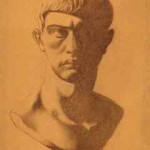 Level 1: Anatomy
Facial features, Accuracy, shapes, shadows, edges and rendering. Lots of homework plus practice from pictures. A $40 fee will be applicable for this Level.
September 20 to October 25
Fee: $235 for 6 weeks + $40 supplies
Level 2: Draw like the masters
A 3 colours Drawing introduces minimal colour and temperature. Some homework plus lots of practice from pictures and one live model 3 times. A $40 fee + a model fee will be applicable for this Level.
November 22 to December 20
Fee: $195 for 5 weeks + $40 supplies
Level 3 : Soft Pastel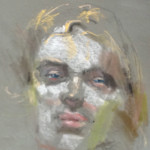 Creativity in Portraiture using soft pastels. Practice from pictures and a few live model. A $80 fee for supplies + $70 models fee will be applicable for this Level.
January 24 to March 7
Fee: $275 for 7 weeks + $80 supplies + $70 models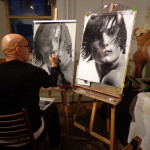 Level 4 : Sensitivity to VALUE ~ GRISAILLE for Portraiture
In this intro to the classical approach to oil painting each student will work on one portrait for the entire session from a photo they bring. A $80 fee for supplies and preparation will be applicable for this Level.
March 21 to May 2
Fee: $275 for 7 weeks + $80 supplies
Level 5 : Techniques for Colouring Your Grisaille
Learn and practise colouring your B&W grisaille image using different oil painting techniques such as glazing and stumbling. We will use oils again but this time in 'full colour. There will be videos shown plus demos. A $40 fee for 3 reprint of the grisailles will be applicable for this Level
May 9 to June 20
Fee: $275 for 7 weeks + $60 supplies
Your preparation: Before the first class reproduce your grisaille (or a portrait photograph) onto canvas at least 2 times. This is called a Giclée. Bring your own supplies (except easels) plus the reproduced B&W images on canvases. The size is up to you. It could be 12" x 16" or larger.
In both levels 4 and 5 there will be long videos by different portrait artists.. I will lend some out so you can watch most of them on your own time.
Then I plan to repeat the Levels starting anew in September.
The level 1 course is a prerequisite for level 2. Levels 3, 4 and 5 are open to all.
Register with Gary at (416) 910-5535 or click here
Instructor:
Gary Smith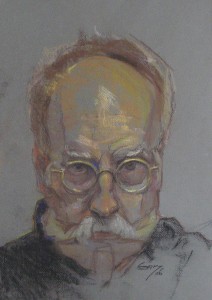 BA in Fine Art, Teacher Degree and Art Supervisor Certificate. An artist and art coach who is a graduate from The Faculty of Art, Guelph University and teaches Drawing and Painting at LucSculpture, does murals and portraits and exhibits frequently. His work is carried by Libby Gallery in Toronto and Gallery on the Bay in Hamilton. Gary also founded CLUB DRAW for Life Drawing on Sundays afternoon. Gary has done a few thousand portraits, beginning when he professionally drew portraits at Expo '67 in Montréal for 14 hours a day, 7 days a week.He also offers unique "Escape with Gary Art Workshop here in Canada and abroad.