Thursdays 4 to 5:30 am (age 6 to 12)
Instructor Lisa Young Chow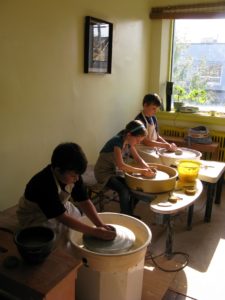 Fall 1 session: September 14 to November 2
Fee: $220 for 8 weeks
Winter session: November 9 to December 21
Fee: $195 for 7 weeks
Winter session: January 11 to March 8
Fee: $245 for 9 weeks
Spring session: March 22 to May 3
Fee: $195 for 7 weeks
Summer session: May 10 to June 21
Fee: $195 for 7 weeks
Our prices includes clay, double firing and glazing, not Hst
Drop in welcome is availability at $30 a session
Space limited to 6 kids
Call 416-461-7936 or Click here for registration
Whether you are new to clay or looking to build on your existing skills, you will have an opportunity to experiment with forms using a variety of techniques in our calm and friendly space.
Classes will include hand building, sculpture, throwing on the potter's wheel, and glazing.
Instructor Lisa Young Chow has lived and worked in Toronto's east end for over 20 years. Lisa studied and graduated from Ontario College of Art and Design specializing in printmaking and ceramics. She then opened one of the first ceramic arts studios on Danforth's east end. Here she taught clay classes, both hand building and wheel throwing to adults and children as well as running a shared studio space for local ceramic artists. Lisa has been a member of Lucsculpture for the past two years where she continues to focus on pottery.