Thursday mornings from 10 am to 12 noon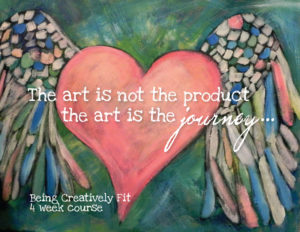 Winter Session: January 18 to March 8
Fee: $300 for 8 weeks (Supplies included + 13% taxes)
Part 1 & 2
Maximum participants 6.
A deeper exploration of painting, art-making as a daily practice to support you feeding your creative SPIRIT!
Committing to an art practice that is a part of your daily life you will have the freedom to MAKE ART a HABIT you can call on anytime. You create new patterns that serve your exploration of the depth of your creative spirit.
YOU WILL EXPLORE:

Various media and exercises to deepen your practice. New techniques in painting to build on what you have done before.
to Register Click Here or amail Christine Pensa artthatmoves@rogers.com
Christine Pensa is a visual artist whose practice evolved after her children were born. Christine had a successful career doing something very far removed from art. After she had her first child she decided it was time for change. Christine took an art course and remembered her true passion was creating. Christine says, "I hadn't realized I was creatively starving. Now creating is so fundamental to my well being – I can't imagine a day without it."
Christine knew her "creative starvation" was something others shared and so she began to teach adults and kids to open up to their own creative magic.
Christine's work can be found in local galleries, and retail stores in Ontario or online at www.artthatmoves.ca