We run the summer camp all summer from July 4 to September 1, 2017
Almost all activities can be taught in French (except when (Fr) in mention)
Space is limited to 14 children per day
Please register in advance @ 416 461 7936 as some weeks are close to full!
We serve 2 healthy juices and snacks in the morning and afternoon, but don't forget your lunch box!
$295 for 5 days 9:00 am to 4:30 pm
$175 5 days half a day 9:00-12:30 am or 1- 4:30 pm
$75 a full day 9:00 am – 4:30 pm
$40 half a day 9:00 am -12:30 or 1:00 – 4:30 pm
$7.50 per extra half an hour for extended care
Prices include all materials and supplies (except taxes)
10% off if more then one week per family
View our short clips from TFO from summer 2014
Programs from last summer 2016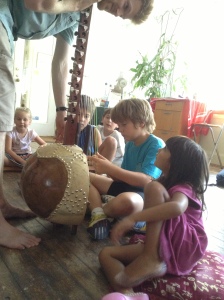 First program: Week July 4-8, 18-22, August 2-5 and 15-19 and August 29 to September 2
MONDAYS – Reality
Drawing: Your version of at the farm
Craft: Imaginary house with cardboard
Painting: Inuit moon landscape
Clay: Stylized family
TUESDAYS – Earth
Storytelling with Pat Bisset
Clay: Rooted tree tile
Collage: Earth and the univers
Clay: Magic box with patterns
WEDNESDAYS – Air
Clay: Landscape to the sky bas relief
Garden: Water and vegetable snacks
Lunch at Woodbine beach

At the beach: Collect stones and props
Clay: Spirited planter for herbs
THURSDAYS – Water
African Dance with Adrienne Medjo
Collage: Deep ocean creature
Swimming at Monarch Park
Clay: Fantasy Fish
FRIDAYS – Fire
The wheel and your favorite cartoon characters
Music and singing with Marni Levitt
Theatre: Fun games with Mario Lourenco
The wheel and under glaze you artworks
Second program: Week July 11-15, 25-29, August 8-12 and 22-26
MONDAYS – Visualisation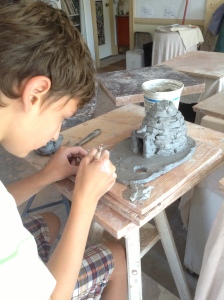 Pastel: Save the sea turtles
Craft: bats, bird, poulpe
Collage: Your altered box
Clay: Wordy mugs and bowls
TUESDAYS – Vibration
Painting: Abstract exploration
Clay: Musical chimes
Music: Drumming and dance with Ekin agency
Clay: Auto-portrait inspired by Picasso
WEDNESDAYS – Dream
Clay: The ideal little house
Painting: Flower inspired by Georgia O'Keeffe
Lunch at Phin Avenue parkette
Craft with Jerry Silverberg
Clay: Animal pot for aromatic herbs
THURSDAYS – Wonder
Yoga in motion with Allison Williams
Painting: Salty sunny beach

Swimming: at Monarch Park
Clay: Round and curvy box
FRIDAYS – Freedom
Africain Storytelling with Adrienne Medjo
The wheel and portrait your heart
Theatre fun with Mario Lourenco
The wheel and under glaze your artwork
Note: we take outside breaks everyday when weather permitted and the activities are subject to change.